When it comes to construction and renovation, there's something undeniably magical about restoring the past. Our current project in the historic heart of Pottstown, undertaken by Marvel Builders, is a testament to this sentiment. We are embarking on a masonry restoration journey that pays homage to the rustic beauty of natural cleft flagstone pavers, preserving not just structures but the history of a community.
Unveiling the Natural Cleft Flagstone Pavers
This week, Marvel Builders took our first major steps in setting these remarkable flagstones in mortar. Their natural cleft surface gives them an organic, almost tactile quality, which immediately captures your attention. These flagstones, known for their exquisite textures and unique variations, are like pieces of art that nature itself has crafted.
A Customer's Vision: Rustic Elegance in Historic Pottstown
Marvel Builders' mission on this project is deeply intertwined with the history of the location. The Historic part of Pottstown is a treasure trove of stories, architecture, and culture. The aesthetic of the past, full of character and charm, is what our customer desired.
To achieve this desired effect, we took an extra step. Instead of just setting the flagstones in their pristine state, we carefully and deliberately chipped away at the edges. This meticulous process creates a tumbled look, much like the passage of time has weathered these flagstones over years and years. The result? A rustic charm that harmoniously blends with the historic surroundings.
Crafting Timelessness in Every Stone
Marvel Builders understands that masonry restoration projects like these require a keen eye for detail and an unwavering commitment to preserving the past. The dedication of our team is evident in every chip, in every meticulously set flagstone. Each stone we work with bears the weight of history, and as we carefully craft the rustic edges, we breathe new life into these timeless materials.
A Glimpse into the Journey
Here's a glimpse of the progress… forge ahead with us on this exciting journey: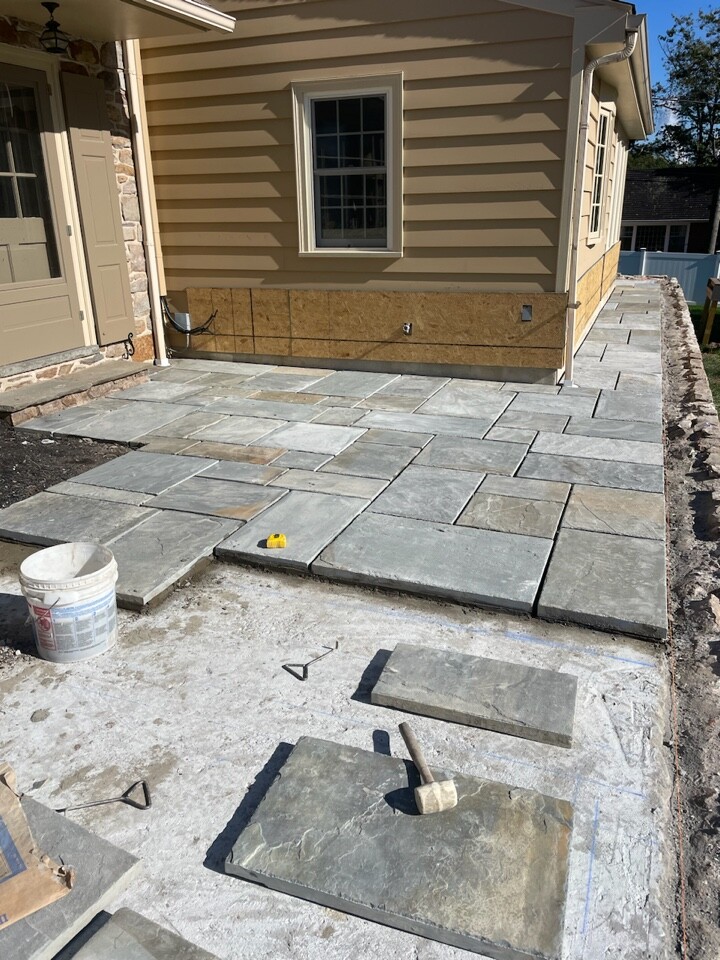 The project is still in its early stages, but we are eagerly watching it take shape in the heart of Historic Pottstown. Every stone that's laid is a step closer to realizing the customer's vision and preserving the beauty of the past in a community that has its own unique story to tell.
Stay Tuned for More
Marvel Builders is eager to share more updates as this project unfolds. The fusion of the past and the present, the artistry that goes into each stone, and the beauty that emerges from the age-old flagstone pavers all come together to create a captivating narrative. We can't wait to share the final result with you.
In the end, this project is a testament to the fact that masonry restoration, especially in historic locations like Pottstown, isn't just about restoring structures; it's about preserving history and telling stories through stone. It's about capturing the essence of time and beauty in every chip and every mortar line.