Battery-powered framing saws have come of age
By Tim Uhler
DOWNLOAD THE PDF VERSION OF THIS ARTICLE. (6.99 MB)
A couple of years ago, I wrote about how my company used primarily cordless tools when framing our houses ("The Cordless Framing Site," Dec/17). In fact, the only saws we used with cords were beam saws. At the time, only Makita and DeWalt offered cordless versions of rear-handle, wormdrive-style saws, our preference. Since then, Hilti, Skilsaw, and Milwaukee have released cordless rear-handle saws, creating a perfect opportunity to test and compare them.
It seems that west of the Mississippi, rear-handle worm drives, like the Skil 77, have been the preference and staple for many decades. I like the rear-handle design because I find it to be more natural to push the saw from behind, and as a right-handed person, it's easier to see the blade when it is on the left. These saws are known for their power, but the downside, of course, is their weight.
The five saws I reviewed for this article have many features in common. They share a rear-handle, blade-left design and have brakes—a safety feature I love—and rafter hooks. They all bevel to 53° and take 7 1/4-inch blades. And, of course, they're all battery powered.
Makita XSR01PT
Makita has done a great job of making this saw feel compact while providing enough power that I haven't regretted going cordless. The hook is large and will fit over 2 1/2‑inch I-joists. While the saw bevels to 53°, it has stops at 22.5° and 45°. It runs off a pair of 18-volt batteries that slide under the saw behind the motor.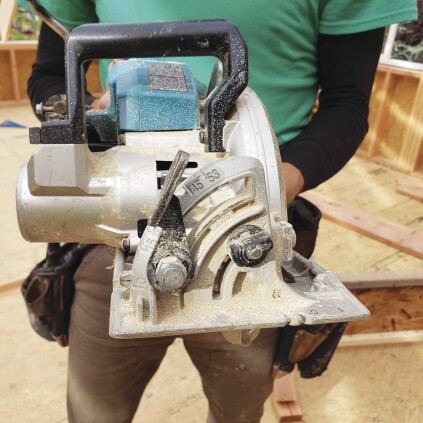 The Makita isn't the most powerful saw of this group, but it's still easily capable of cutting compound miters on 2×12 jacks or 1 3/4-inch LVL. As one guy on my crew said, this saw feels like "finesse" and not brutish like some other saws (including corded ones). With a depth of cut of 2 9/16 inches, it can cut through a 3-by in a single pass. The saw spins the blade at 5,100 rpm and weighs in at 12.14 pounds with the batteries attached.
I found this kit online for $350, but if you time it right, you can get an additional two batteries included as a promotion. We found that we never outran the batteries that were on the charger. By the time the batteries in the saw were dead, the batteries in the charger were ready to go.
Makita XSR01PT Specs
Total weight: 12.14 lb.
Battery weight (both): 2.14 lb.
Amp hours: 5 Ah x 2
Rpm:5,100
Max. cutting depth at 90°: 2 9/16 in.
Max. cutting depth at 45°: 1 3/4 in.
Hilti SC 60W-A36
The Hilti saw felt very well-balanced. It is the only saw that doesn't have a safety button to push before pulling the trigger and spinning the blade, though it does have the ability to lock out the trigger. The rafter hook, which is made of plastic and sits on top of the saw, doesn't fit over 2 1/2-inch material. It also tended to pinch when it was hanging off a 2-by rafter or joist, requiring a little extra effort to remove it. My saw didn't ship with a hook, but others have told me their saws did.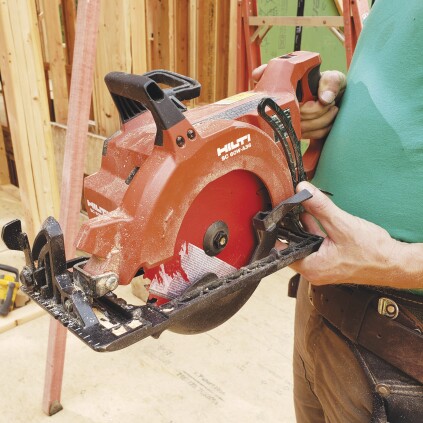 The saw is powered by a single 36-volt battery, which slides in from the right but sits just behind the motor, contributing to the saw's nice balance. In order to check the charge, you have to pop out the battery by hitting a button on the back of the saw.
The blade in the Hilti spins at 4,000 rpm, so the saw does cut a little slower than the saws with faster-spinning blades, but not enough for me to care. Cutting depth is 2 3/8 inches. This saw weighs in at 12.32 pounds with the battery attached. It also has a work light that is handy now that the days are shorter and darker.
This saw had enough power for us when we were hand-cutting 2×12 Doug fir rafters. Online through Hilti, this saw kit with one battery runs about $600.
Hilti SC 60W-A36 Specs
Total weight: 12.32 lb.
Battery weight: 3 lb.
Amp hours: 5.2 Ah
Rpm: 4,000
Max. cutting depth at 90°: 2 3/8 in.
Max. cutting depth at 45°: 1 15/16 in.
DeWalt DCS577X1
This 60-volt saw from DeWalt uses the company's FlexVolt battery platform and ships with a 9-Ah battery. The motor spins the blade at 5,800 rpm, and the depth of cut is 2 7/16 inches.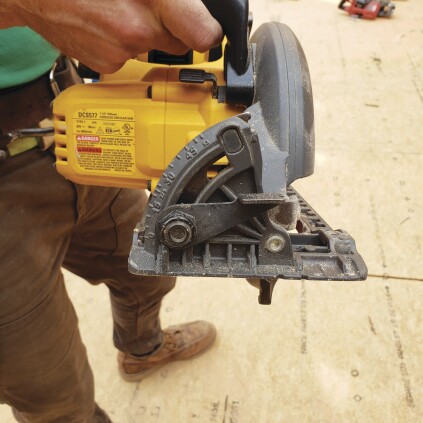 While the side-mounted rafter hook will fit over 2 1/2-inch stock, I had a little trouble with the hook getting caught on the material I was cutting. I think this problem is caused by the fact that the hook on my test saw will pivot 180°. When I mentioned this problem on Instagram, a number of guys shared videos that show the same thing, but an equal number say their hooks don't rotate past 90° and so don't get hung up. What is unclear is if the hook mechanism breaks somehow after use, or if there was a manufacturing change. To me, it isn't a deal breaker, but it's worth mentioning.
Like the Milwaukee, the DeWalt has a sawdust port, which we likewise covered with tape, built into the upper guard. The saw also has an integrated dust blower to clear the cut line, but I didn't notice it until I read about it in the manual. The bevel gauge has stops at 22.5° and 45°; like the other saws, maximum bevel capacity is 53°.
Online, this kit sells for $400.
DeWalt DCS577X1
Total weight: 14.37 lb.
Battery weight: 3.35 lb.
Amp hours: 9 Ah
Rpm: 5,800
Max. cutting depth at 90°: 2 7/16 in.
Max. cutting depth at 45°: 1 7/8 in.
Milwaukee 2830-21HD
The Milwaukee M18 Fuel saw ships with an 18-volt 12-Ah high-output battery that slides in from the top between the motor and handle. The handle sits back from the battery and is nice and large, which I feel helps contribute to the saw's balance. And I like the side-mounted rafter hook, which is large enough to fit over 2 1/2‑inch material. Like the Hilti, this saw also has an LED work light.
One feature on the Milwaukee worth noting is a dust port built into the upper guard that can be hooked up to a vacuum. Since we don't use a vac, we found that this port shoots dust all over the material being cut, so we taped it off. Like all of the other saws in our testing, it has an electric blade brake.
The blade on the saw spins at 5,800 rpm, and has a cutting depth of 2 1/2 inches. The saw weighs in at 13.13 pounds with the battery attached.
Online, this kit sells for $450. To run it as a framer, you need another battery, so watch for deals in which you can get a battery thrown in. Another strategy that works well is to charge the battery at lunch regardless of the charge, which will allow you to cut all day long.
Milwaukee 2830-21HD
Total weight: 13.13 lb.
Battery weight: 3.66 lb.
Amp hours: 12 Ah
Rpm: 5,800
Max. cutting depth at 90°: 2 1/2 in.
Max. cutting depth at 45°: 1 7/8 in.
Skilsaw TRUEHVL Cordless Worm Drive
The only true worm drive in this group, the Skilsaw TrueHVL is exactly like the company's corded Mag77LT but with a giant battery mounted to the underside of the rear handle. This is a 48-volt 5.0-Ah battery, and while the location looks awkward, it actually helps to balance out the saw. The saw's maximum cutting depth at 90° is 2 3/8 inches, and the blade spins at 5,800 rpm.
While the rafter hook will fit over 2 1/2-inch material, I wish it were a little longer. Another thing to be aware of is that the top handle of the saw is designed to hook up to a vacuum. The tool ships with an adapter that is supposed to help direct the dust away from the user, but I found when cutting jacks that it shot dust right into my face.
And about that battery: It is by far the largest of the bunch and made the saw feel cumbersome. It tended to get in the way while the saw was in use and prevented the saw from hanging out of the way from our sawhorses when they were loaded with material. The battery is also designed specifically for this saw, so you won't be able to use it with other cordless tools from the company.
Skilsaw says that this saw is available in a number of different kits, but as of the writing of this review, I could only find the kit with one battery and a retail price of $400.
Skilsaw TRUEHVL Specs
Total weight: 15.14 lb.
Battery weight: 4.3 lb.
Amp hours: 5 Ah
Rpm: 5,800
Max. cutting depth at 90°: 2 3/8 in.
Max. cutting depth at 45°: 1 15/16 in.
Conclusions
None of these impressive saws had any trouble ripping LVL or cutting steep compound miters on 2×12 stock, and any would be a no-compromise replacement for a corded saw. But as I get older, I look for lighter-weight tools as much as possible. Therefore, my first choice is the Makita, because it is the lightest and most compact saw of the bunch. It is also the least powerful, but that hasn't bothered me one bit; it still has plenty of power for my needs.
Tied for second are the saws from Milwaukee and DeWalt. The Milwaukee is only a little heavier than the Makita, but is more powerful and fast. And while it feels like the handle on the DeWalt is too close to the saw, making it squirrelly while ripping ply, it is crazy fast and powerful; in fact, it's the most powerful saw of the bunch. It has a great line of sight when it's beveled, and the sheer amount of power makes it a pleasure to cut compound miters with this saw. If your primary goal is power, pick this one.
Fourth, I would pick the Skilsaw. On the plus side, it is very powerful, nearly as strong as the DeWalt, and is a genuine worm drive, with its well-deserved reputation for durability. But the battery is just too large, making this saw the heaviest of the bunch. That's a deal breaker for me, but it might not be for you.
There's a lot to like about Hilti's saw. It was close to the Makita in terms of balance and nearly as light; in fact, I really like the saw except for the higher price. If someone wants to pay $600 for the kit, I think they'd be happy with it too.
Photos by Tim Uhler
About the Author
Tim Uhler is a lead carpenter for Pioneer Builders in Port Orchard, Washington. He is a contributing editor to JLC and Tools of the Trade. Follow him on Instagram @awesomeframers, subscribe to his YouTube channel, or visit his website: awesomeframers.com